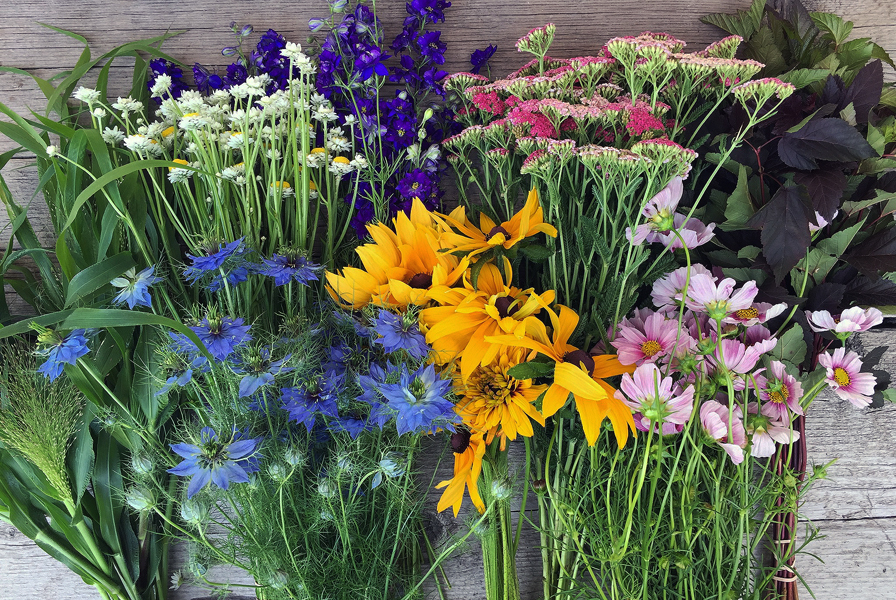 DIY Bulk Buckets FAQ
If you want to arrange your own wedding or event florals, we offer freshly harvested blooms and foliage in bulk buckets.
What kind of flowers are in a bucket and how many do I need?
Each bucket will have a combination of flowers and foliage, around 90 stems. We  find that a quart-size mason jar uses 10-20 stems depending on how airy or full you make the arrangements. Our style uses a lot of texture and variety and the DIY buckets reflect that. The buckets are about 1/3 focal flowers, 1/3 smaller airier things like cosmos or larkspur and 1/3 foliage/texture.
Buckets are $100 for farmer's choice of color palette, $120 for a specific color palette. The exact combination of flowers will be based on what is in season that week. Check out our Flower Availability List to get a general idea of the flowers that will be in season for your event.  Some premium flowers like peonies, lilies and dahlias are sold by the stem ($2 – 5). Note that bulk buckets are available during our main growing season from mid May to Mid October. We often have tulips, daffodils and other bulbs and flower branches available in April which are sold by the stem.
Am I crazy to think about doing my own wedding flowers?
Not at all. Farmer Heather was a partial DIY bride herself – she had bridal bouquets and boutonnieres made by a professional florist but her friends and family made the reception centerpieces. Having the people she loved working together to make something beautiful for her wedding is one of her fondest memories of the day. That said, it does take planning and organization.
A few things you'll want to consider:
Do you have someone who can pick up the flowers from our farm a day or two before the event? And an air-conditioned vehicle to transport them in?
Do you have a cool, dark place to store the flowers between pick up and the wedding?
Do you have a good workspace to make the arrangements? Enough table space, a sink and water, and a way to dispose of your stem and leaf clippings?
Do you have friends or family who can help you make the flower arrangements and several hours to set aside to do them a day or two before your wedding?
Do you have someone who can help install the flowers on your wedding day while you are getting dressed and ready? And someone to help break them down at the end of the event?
Often couples will choose to do a hybrid event where we'll do the bridal bouquets, corsages, flower crowns and boutonnieres and the couple's friends and family will make the centerpieces.
How do I know how many buckets to get?
DIY means "do it yourself."  For the DIY bulk bucket program, the client figures out the number of buckets and stems that they'll need to do their arrangements, we don't do that for you. We recommend making a mock up of one of the arrangements that you want to make using flowers from your garden, a florist or even supermarket flowers. Count the number of stems in your recipe and multiply that times the number of arrangements you want to make to figure out the total number of stems you need. Each bucket will have about 90 stems. We suggest adding 10-20% extra to account for broken stems, flowers you cut too short or other mistakes you might make when arranging. We also sell individual focal flowers like tulips, lilies, peonies, sunflowers and dahlias by the stem ($2-5/stem) and some flowers are available by the 10-stem bunch.
I like the idea of doing my own wedding flowers but am unsure about how to go about it.
We highly recommend Fresh from the Field Wedding Flowers: An Illustrated Guide to Using Local & Sustainable Flowers for Your Wedding by Lynn Byczynski and Erin Benzakein. This short ebook has great instructions and includes several how-to videos.
How do I reserve flowers?
Our weekends book up especially during the prime wedding season.  Contact us by email to check availability.